I was featured at the Sunday Showcase Party....

My first feature ever. To see my project that she loved on my Colorful Cravings Blog,
click here.
Thanks Stephanie Lynn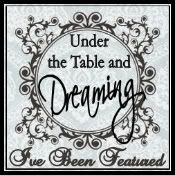 P.S. I am trying to build my followers,

I will love you forever if you will support my Crafting Blog
Colorful Cravings
.
(not that I don't already love you all)
Love, Tamber